Summary: Scientist, inventor and high-end R&D management executive with 25+ years experience in the T.I.M.E.L.S. technology market scene (Telecoms/ IT/ Media/ Entertainment/ Life Science) and passion for advanced research initiatives. Current focus: AI/AR. Expertise in concept design engineering, innovation management, business development, strategic product planning, acquisition and management of international projects. Skilled in research, invention, strategic missions, tracking advanced technologies and partners, evaluation of pre-IPO companies for VC investments, exploring new areas and covering white spots with business opportunities, rapid prototyping, marketing & product push-up, alignment and evolution of existing products with emerging solutions, partner relationships, cooperation. Future research plans are outlined here.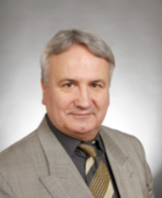 Education and training
PhD C.S. (2002), Technology University of Ilmenau, Germany, Thesis (Network Engineering): "The Wandering Logic Intelligence, A Hyperactive Approach to Network Evolution and Its Application to Adaptive Mobile Multimedia Communications".
Research visits [1992-1995]: Computer Systems Lab (Stanford U.), Visual Computing Lab (UCSD), Entertainment Technology Centre (USC); Universal Interactive Systems Inc., Pacific Bell, Silicon Studio, Warner Bros. Studios (CA), CRIM (Montreal, CAN) University of Stirling (Scotland, UK), Consortio per l'OSI and Etnoteam S.A. (Milan, Italy), Clemessy S.A. (Metz, France).
M.Sc.E.E. (1986), Technology University of Ilmenau, Germany, Thesis (VLSI-Design, in German): Transformation of the Symbolical Layout in the Physical Layout Data Format for Gate Array Integrated Circuits.
B. Sc. (1981), Faculty of Physics, Sofia University "St. Kliment Ochridsky" & National Mathematics Gymnasium, Sofia, Bulgaria.
---
Curriculum Vitae
---
Professional Experience
since April 2018 Guest Scientist, Charité University Medicine Berlin, Germany: Theoretical Biology
since Dec. 2006 Council Member, Guidepoint Global Advisors, and Gerson Lehrman Group
Operating as a freelance consultant, ICT & biotech evaluator, industry & VC advisor
since May 2002 PI, _JSRC, Berlin, Germany
Strategic Technology Advisor & Research Associate, Univ. of Stirling (2002) and Cambridge (2013), UK
Engaging as initiator, coordinator, referee & EU research program evaluator
Teaching: ICT (networks, services, applications, infrastructures), mathematics and physics
02/2016 – 03/2018 Research Fellow, Charité University Medicine, Berlin, Germany: Digital Pathology
11/2014 – 02/2015 Consultant, GFZ — German Geosciences Research Centre, Helmholtz Association, Potsdam, Germany
04/2014 – 10/2014 Lecturer of Management at the Macromedia University for Media and Communication, Hamburg
10/2012 – 03/2013 Innovation Transfer Manager, Humboldt University, Berlin, Germany
07/2004 – 12/2007 Director Research, Distributed Artificial Intelligence Laboratory, TU Berlin, Germany
Planning and administrating the research activities of 6 competence centres (~100 associates in the fields of Core Agent Technology, Information Retrieval & Machine Learning, Next Generation Services & Networks, Security & Cognitive Architectures)
Steering project acquisition, marketing, IPR/innovation and event management
04/2001 – 04/2002 Research Associate, Dept. of Multimedia Telematics, TU Ilmenau, Germany
Completing PhD dissertation on self-assembling wandering peer-to-peer networks
1999 – Oct. 2001 Director Active Multimedia | Vertical Services, CTO, Siemens AG, Information & Communication Mobile, Berlin
Planning the design of new wireless architectures and services, as well as for building strategic alliances and carrying out pilot initiatives with a research network of partner institutions worldwide
Analysing new business opportunities for the vertical markets in the wireless communications domain and creation of a development plan for a product-oriented research and a go-to-market strategy through coordinated pilot initiatives with promising strategic partners targeting the development of rapid prototypes of telecommunications architectures and services upon evaluation of the customer feedback from demonstrations at technology fairs, network fora and conferences. The personal budget for FY'2001: $4.2 million
1996 – 1999 Sr. Product Planner Intelligent Networks, Siemens AG, Information & Communication Networks, Berlin
Taking the complete responsibility for the alignment of new products (middleware network platforms) within the division's product line. Budget $20 million within 2 years. Successful completion prior to the deadline. Defining the integration of mobile multimedia applications within the company's portfolio to achieve revenues of $15 million in FY'1999 and $120 million within three years. Conducting quantitative market analysis to identify customer needs and develop product requirements. Managing the activities of over 90 sales and marketing professionals. Driving the research-oriented development of new products
Product line strategy definition & project management: 6 projects
Business opportunity evaluation: 48 with 12 own proposals
Version packetization and specification : 3 product versions
Market communication & product promotion: 8 industry fairs
Operational customer support: 18 operators from 6 countries
Training: 2 training programs and 6 customer seminars
Negotiations/ contracts and maintaining relationships with over 30 OEM partners
1992 – 1996 Research Assistant, TU Berlin, Research Centre for Process Control Applications, Berlin, Germany
R&D: specializing in Software Engineering, Quality of Service, Validation and Verification of Video Streams over TCP/IP, UDP/IP and ATM; Temporal Logic. Technical project leader of two European research projects in the areas of Software Engineering & Broadband Multimedia Telecommunications Systems
Engaging in preparation & acquisition of EU research projects of the EU programs ACTS, Telematics and ESPRIT-III, as well as QoS standardization activities (DIN/ETSI)
1990 – 1992 Research Assistant, Humboldt University at Berlin, Dept. of Informatics, Berlin, Germany
R&D: specializing in Formal Techniques, Modelling, Simulation & System Analysis
developing Graphic-OSDL: Compiler-Compiler from NSDL to OSDL and vice versa (C++)
1987 – 1990 Visiting Scientist, Academy of Sciences at Berlin, Central Institute for Cybernetics and Information Processes, International Basic Laboratory for Computer Graphics & Image Processing, Berlin, Germany
R&D: specializing in Image Analysis & Computer Aided Design – Computer-Aided Schematics System:
developing Hand Drawing Image Recognition Algorithms
defining Network Structure Description Language (NSDL): design, implementation (C) and test
1986 – 1987 Patent Expert Computer Science and Electronics, National Patent Institute, Sofia, Bulgaria
recherché & evaluation of 21 patent proposals
---
Academic studies
2001 – 2002 Computer Science & Network Engineering, TU Ilmenau, Germany
1981 – 1986 Information Technology / Digital Circuitry & Image Processing, TH Ilmenau, Germany
1980 – 1981 Physics, Sofia University « St. Kliment Ochridsky »
---
Primary, secondary & college education
1975 – 1978 National Mathematical Gymnasium, Class of Physics, Sofia, Bulgaria
1974 – 1975 Sofia Mathematical Gymnasium, Sofia, Bulgaria
1967 – 1974 basic school, Sofia, Bulgaria
---
additional information about my professional background, activities, and interests please refer to the other sections on this website. In case you have any questions, you can call me or leave me a message using the form sheet under the menu point "Addresses > Contact".
---